Want to Love - A - Lee all your own?
Play with them, laught at them, torture them--
you can use and post them in legacies,
whatever!
Packaged with Custom Content;
use the CleanInstaller to download.
Have fun!
_____________________
GENERATION ONE
HARPER - Foundress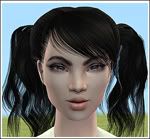 CC included. Keep those eyebrows, man!
Skintone is very dominant; gotta breed that bitch out.
Dominant brow, mouth, cheekbones, jaws, ears.
Beautiful babies!
Get her here.
XAVIER - Spouse
In the download,
I switched his hair to a basegame style.
His nose and cheekbones and eyes are
cute!
dominant;
his facial expressions are priceless.
Tiny ears, btw! His babies had
curled
ears, actually.
Get him here.